Come out and walk on a gorgeous trail in the Santa Cruz mountains.
This month we will walk through Quail Hollow!
ALL WALKS are gather (at a safe distance) at 10:45am, BEGIN AT 11am. And for now we'll be doing them on Sundays.
Join us on our monthly walks, and feel the power of the Earth. We walk in silence on the way out, but once we reach the destination, we'll share snacks and then gab like magpies all the way back.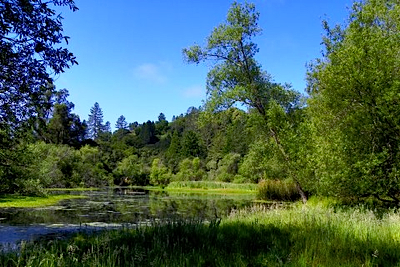 Directions
From Highway 17, take the Scotts Valley/Mount Hermon Rd exit. Continue on Mt. Hermon Road for 3.8 miles. Turn left onto Graham Hill Road and go past the shopping center. Turn left onto East Zayante Rd.
Take East Zayante Road about 1.9 miles to Quail Hollow Road. Turn left onto Quail Hollow Road and proceed about 1.1 miles to the entrance of Quail Hollow Ranch, which will be on your right. You can also use Graham Hill Road from Santa Cruz, or Highway 9 and Glen Arbor from SLV.
Gather at 10:45 am
Departure: 11:00 am
Return: around 1pm
For full location information, click here.
FOR ALL LOCATIONS Please bring:
Drinking water
A face mask
A small snack
Hiking Shoes
Comfortable Clothes
All Community Seed ritual events are Clean and Sober.
For More Info Call: (831) 469-0336