The Annual Yard Sale will happen on Saturday, September 3rd, 2022 – at 128 Berkshire Avenue, on the Westside of Santa Cruz.
Our Yard Sales are MASSIVE! Anywhere from 30-40 households contribute and that makes our portable department store a MUST-SEE. Clothing, Books, gadgets, baby items, sheets and blankets, shoes, bargain items and, of course, witchy things!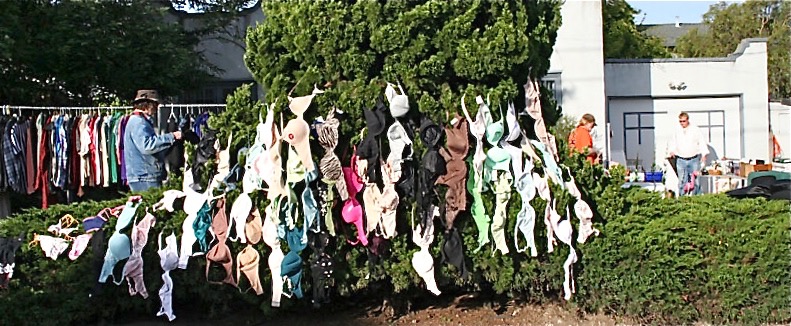 It's all here. The only thing missing will be you if you don't stop by.
Oh, and none of this will happen if you don't contribute your cast-off items. So use these mild evenings to clean out that closet, spare room, car trunk, storage shed, whatever and then drop off your stuff at our gather-center in Scotts Valley. Text Community Seed at (831) 431-0636 for directions. We discourage day-of drop-offs for several reasons, so please get your items to us beforehand – thank you!
Now, we do have some advisories: First off, its a GARAGE sale, not a GARBAGE sale; please dispose of your trash in other ways. Second, open personal care products are a non-starter because they've already been started. Thirdly, most electronics are likewise suspect – check with us directly about what you've got. Fourthly, please keep your underwear to yourself. 🙂
Masks? Not a bad idea. We will have other PPE on hand, but if you are not vaccinated we ask that you mask-up.
Got it? Saturday, September 3rd, 2022, 7am, 128 Berkshire Avenue, Santa Cruz. See ya there!